The SUPERHETERODYNE Project.
So, susandeer, wolf_kidd, and myself went exploring last weekend. The weather was nice and we just wanted to get out and do something. A few checks of the newspaper located a giant farmers market and flea market only a few miles from where we lived. As one of our friends who had been there mentioned, it is best referred to as "the dirt mall."
At the front it's a nice farmer's co-op style market and mall full of intersting shops and such. It has drop-ceilings and tiled floors and air conditioning and everything. It slowly degrades as you walk further back until you're in a gravel lot with daily-rented tables where people are selling questionable wares from the trunk of their car.
It is a thing of beauty. Raw unwashed humanity and capitalism all in one place. We saw many cool and scary things. We bought some cast-iron cookware that can no longer be found for a few dollars. Sue found some reference material for Never Never of all things.
But the coolness was not the butcher shop with meat candy, or the anchient video game hardware near the guy who sells too many my-little-pony accessories.
On one of the outdoor lots, in a bunch of furniture and such was a radio cabinet. A nice, 1930s/1940s vertical radio cabinet. No radio. No knobs. Just a piece of furniture.
I started to form a project idea so I bought it from the guy. I chatted with him a bit and he cut the price to $10.
We took it home and ran a good pass over it with murphy's oil soap. Many folks smoked back in the day and cigarette smoke makes things dirty. We were all pretty happy when a rich brown wood tone came up out of the dark gunk we cleaned away. There are scratches and dings, but overall it looks good.
So what to do with an old radio cabinet?
Why, music of course. You see, I have an airport express serving the house with tunes through a set of speakers. After a few moments of cable rerouting, the speakers were hidden inside the cabinet body, the airport hub was placed where it was still accessible and everything was neatly arranged in the living room: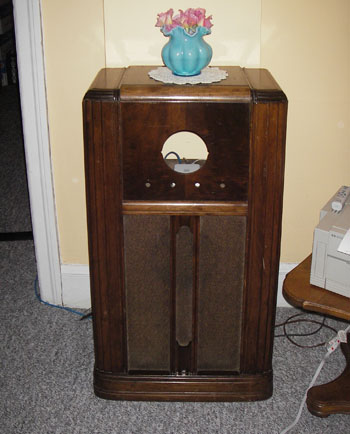 While cleaning it, we chatted and kicked around several ideas for what to do. Something would need to be done with the ciruclar hole that was for the old radio dial, and knobs could be built and made to be hooked in again. The airport express is nice, but I thought making something more permanent could be cool.
Ebay was checked, and believe it or not, the only radio bezel that was for auction was the right size. And it was a beautiful curved glass bezel with embossed brass flashing: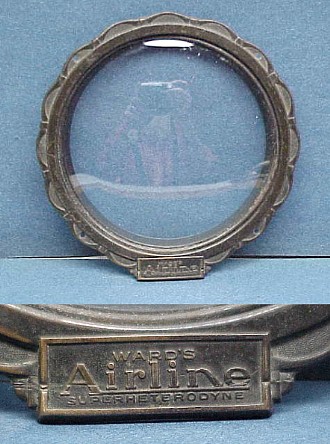 The brand embossing there says "Wards Airline Superheterodyne" which I assume is the manufacturer and model. I don't know if it is the same brand as this case originally was. I doubt it. But I think it should fit right in the hole.
At this point, I had asked our neighbor (who owns a shop of such things and repairs old radios) about how much this radio glass should cost. I wanted to know what I should bid for it on ebay. He commented that he didn't rightly know, but he would like to see the radio and might have the appropriate knobs for it.
Happily, I didn't need to do much worrying over price. I got the bezel for a shade over $6.00. It's on its way to me now via UPS. Technically the bezel cost more than the radio case. With shipping it was $11.01.
Sue and I have kicked around ideas for the back of the dial. Down the road, I might actually like to put a small LCD flush to the back of the dial glass and control it from a media center in this case. If I could get it to look right, and interact with the knobs it would be perfect. But I really really want it to look "right."
In the short term we're thinking of manufacturing our own "paper" to go behind the dial. A good piece of parchment with an aged logo or something. Sue came up with the great idea of what would have been a vintage 1930's Apple-style radio logo since this is currently an airport express. I'm betting it will look incredible.
Now to make the dial look "right" the paper has to be illuminated properly. The old time radios had small, low power bulbs that side-lit the glass that gave it that warm off-white glow.
I asked around and triggur knew exactly what to use. he quickly found a supplier of vintage-style parts. Either one or two of these properly fitting to the sides of the glass will give the perfect glow:

For the electrically minded that is a 120 vac, 1 ma, 5.6k Ohm neon bulb. Neon! Nice and glowy. And it's 120 VAC, so the electric work might be simple enough that I can do it. And at $1.65 I can order plenty so when I ruin the first few I can still finish the work.
The electric stuff is my biggest question mark. At one point maybe I can get a lesson from folks on how to do quality soldering safely. Electric work always worries me.
We're also looking at maybe replacing the radio grill cloth. It seems to be held in place by a tacked board and could be easily changed. A few grill cloth places have been found, but I'd like to find something matching the current style.
So that's the weird project. We've got ourselves a hardwood cabinet radio rocking out our workspace and making our house look nifty. I've even got a few playlists full of period music with announcements and war broadcast. It's scarily cool.
13 Responses to "The SUPERHETERODYNE Project."